A sobering read: Our atmosphere and climate 2017 report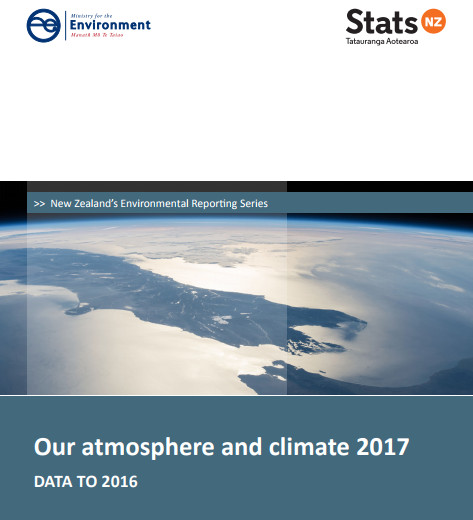 Sustainable Business Council Executive Director Abbie Reynolds says the Ministry for the Environment and Statistics New Zealand's Our atmosphere and climate 2017 report makes for a sobering read.
The report shows New Zealand's climate is warming, and concludes the effects are now becoming visible on New Zealand's landscape and oceans.
"This data shows us the nature of the change that is taking place, and the scale of the challenge we face. It reinforces, yet again, the urgent need for business, government and people to work together, to develop a vision and action plan to transition to a low emissions economy".
"One sector alone cannot do the work that is needed to mitigate the effects of climate change. The path ahead must be co-designed and therefore co-owned by all parts of society – from businesses, to government, civil society and, of course, individuals".
What this report doesn't do is tell us how we, as a society, should respond.
"We need to forge a pathway based on the ambition that New Zealand's transition to a low emissions economy will be a good thing for our environment, our people and our economy. This report is really a call to action. We need to rise to this challenge with the ingenuity of which we are so proud".
"Sustainable Business Council members know there can be no more business as usual. This sort of data helps them monitor and manage their emissions better, with more confidence. It tells them where they would be best to focus their efforts. It helps them quantify, forecast, plan and identify opportunities to reduce their emissions".
The report also doesn't tell us about the effort, investment, time and energy that many people and businesses are putting into addressing climate change.
"The international Business & Sustainable Development Commission estimates that sustainable development to meet the United Nation's Global Goals could unlock new markets worth up to US $12 trillion and 380 million new jobs. Forward-thinking businesses are already investing in clean technologies, innovations, research and development to get the transition underway".
"Take for example, Z Energy's bio-diesel production plant. It will soon be up and running, with members committing to using that cleaner alternative. Dozens of businesses are also converting their vehicle fleets to electric vehicles or switching to use renewable energy sources".
Many are also committing to CarboNZeroCertTM and CEMARS Certification.
The report can be found in full here.
Contact: Renee Graham, Communications Manager
Phone: +64274559104
Email: