Business leadership on climate change matters
It's a pretty challenging time to be a leader. That's why the Climate Leaders Coalition is so important.
New Zealanders are nothing if not resilient – but everyone who runs a business knows it's a pretty challenging time to be a leader. They face digital disruption, a looming trade war and uncertainty about the future of work such as will there be enough of it, or enough people with the right skills. At the same time society's and communities' expectations of us to be good citizens only continue to rise. All on top of the day-to-day effort required to simply run a business.
And then you throw in an issue like climate change.
That's why the leadership shown by the newly-formed business group called the Climate Leaders Coalition is so important.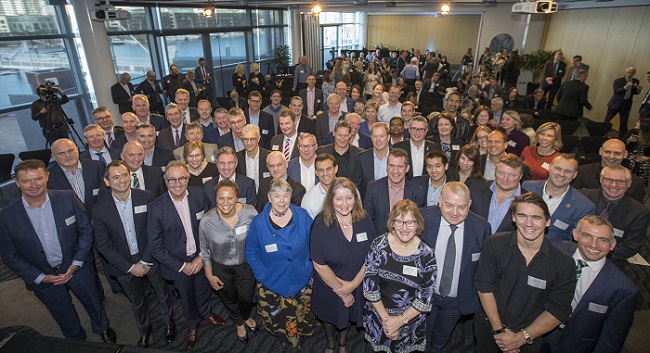 The 60 signatories of the Climate Change Statement at the Climate Leaders Coalition launch, Viaduct Events Centre, Auckland, 12 July 2018.
The government's proposed Zero Carbon legislation is important; but it just sets the ground rules. It's business that has to develop, invest in and deliver low carbon solutions. Businesses must take heed of government action, consumer sentiment and shareholder values. But other big influences are the decision and actions of other businesses.
The Coalition emerged from a group of CEOs meeting last October to discuss what they could do to help New Zealand navigate well the low carbon transition. Now its 60 CEOs, whose companies collectively make up nearly 50 per cent of New Zealand's gross emissions, have committed to action through the CEO's Climate Change Statement, published on July 12. Their commitments are:
To measure and report their greenhouse gas emissions; and
To work with suppliers to reduce emissions, to help limit global warming to less than two degrees, as specified in the Paris Agreement.
Sixty businesses with the courage to make these changes, and ask their suppliers to join them, creates a ripple effect in our tight-knit business community. We will be stronger if we work together.
These steps represent a big shift in the way New Zealand business thinks about climate change, from awareness to readiness to act; rethinking what the future of a business looks like so that within the next 20 – 40 years leaders can transform their businesses so they have no greenhouse gas emissions.
CEOs are experts in running their business, but not necessarily experts on climate change. Embracing the opportunities and challenges it presents may mean having to renegotiate what has made the business successful in the first place. But businesses can support each other to take action by talking about the issues. And here at the SBC, we aim to equip our members with the tools, knowledge and skills they will need.
I am constantly impressed by how many CEOs talk about climate change action being "the right thing to do", and wanting to leave New Zealand better off for future generations. This is an advantage for New Zealand. When I visited the WCSBD in Geneva earlier this year, I didn't hear business leaders there talk about it in this way. The launch of the Coalition demonstrates a generation of business leaders is emerging that truly understands its role is to lead for New Zealand as much as it is to lead business.
The Coalition is supported by the Sustainable Business Council, but is open to all businesses wanting to commit to action on emissions. And if you are looking for support and advice, or to work with other businesses on wider sustainability issues, please consider becoming a member of ours.
Businesses don't need to wait for government to set the rules of the game via the regulatory framework. A great game comes from the ambition, energy and passion of the players. The CEOs Climate Change Statement sets a new level of ambition for the New Zealand business community to approach these challenges by working together.
Abbie Reynolds, SBC Executive Director
Contact: By Abbie Reynolds, Executive Director, Sustainable Business Council
Phone: +64274559104
Email: