Climate top of agenda for sustainable businesses
We have learned from Covid that by working together we could bend the curve. Now it's time for us to work together to bend another curve – New Zealand emissions.
Thanks to Covid-19, the phrase "2020 vision" doesn't quite have the same ring to it, but we still need clear vision when it comes to managing climate change.
At SBC, we spent much of lockdown on Zoom calls with our members discussing a way forward that took care of people and planet, and heard loud and clear from SBC members and Climate Leaders Coalition (CLC) signatories that they wanted to show greater leadership, ambition, and collective action around climate change.
In September, we launched our new shared vision, for a New Zealand where business, people and nature thrive together and we will be working more closely with the CLC as well as in partnership with others to make this happen.
Key to this will be working with government on future-focused policies and projects to accelerate action towards a zero-carbon economy and feeding into the independent Climate Change Commission's advice to Government next year.
Now the election is over, SBC and CLC have presented our report on the priorities on climate action for the short- and long-term to all major parties. The report covers transport, process heat, electricity generation, waste, agriculture, and the built environment. It also sets out the role government can play.
Businesses need immediate decarbonisation options and they need policies that enable this. For example, Z Energy have heard from several of its customers that they simply won't meet their science-based targets without biofuels.
A fundamental part of our credibility to make these requests is demonstrating progress on our own commitments.
The Climate Leaders Coalition now has 18 organisations signed-up to their 2019 Statement to pursue efforts to limit the global temperature increase to 1.5 degrees. This is in addition to the original 2017 Statement to keep warming below 2 degrees.
The economic impacts of the response to the Covid-19 pandemic present risks to climate action, heightening the need for continued business leadership in this area. And businesses in many cases are taking practical steps towards these goals.
SBC has facilitated stakeholders from the freight sector to jointly develop a low emissions solutions pathway that will deliver a net zero freight sector by 2050 and will have halved emissions by 2030. The companies involved in this group span the entire freight value chain, including Fonterra, Countdown, The Warehouse, Z Energy, TOLL, NZ Post, TIL, Swire Shipping, Ports of Auckland and Lyttelton Port Co.
What we found when we started the strategy process is that sustainability is now far more mainstream across New Zealand business and so our focus has shifted to increasing the pace of change through inspiring leadership. Which is why leadership is one of the three pillars of our new strategy. The second pillar is climate action and the third pillar is thriving people, which includes ensuring a just transition towards a zero-carbon economy.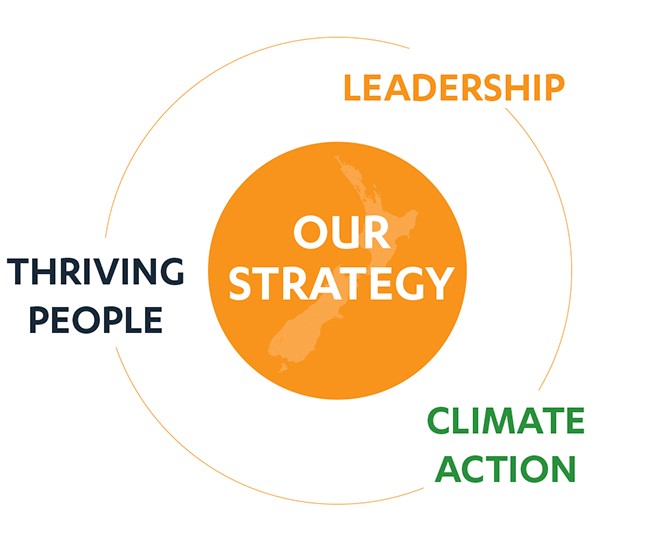 The key to delivering our strategy will be partnerships – between businesses, with the Climate Leader Coalition, with the Climate Change Commission and other parts of government, and with our Team of 5 Million. We learned from the pandemic that by working together we could bend the curve. Now it's time for us to work together to bend another curve – New Zealand emissions.
This article was originally published in Business Plus magazine
Contact: Mike Burrell, Executive Director
Phone:
Email: