Fuji Xerox's future fleet is electric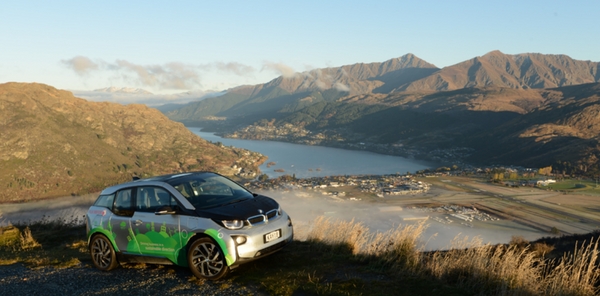 Five thousand seven hundred kilometres down, the Fuji Xerox NZ sustainability team's electric vehicle road trip has reached the end of the road.
Over four weeks, Juhi Shareef and Emma Harding drove from Whangarei to Bluff in a BMW electric vehicle. The purpose of their trip: to highlight the company's new sustainability strategy that will see 30% of their vehicle fleet electric by 2019.
They offered staff at each branch a test drive – a fun way to engage regional teams in the company's sustainability aims.
The trip was also an opportunity to meet with colleagues to find out how an EV fleet would best work for Fuji Xerox. The EVs would have to handle up to 40,000 kilometres a year driving while carrying heavy engineers' kits. So,road-testing electric vehicle endurance and the national charging infrastructure was crucial.
The trip wasn't without its challenges – the car did run out of charge during a large detour to avoid the Kaikoura road closures, and there's still some thinking to be done about charging facilities near each branch. But Juhi and Emma said the trip confirmed that there'd be many benefits from having electric vehicles in the fleet – not least the lower carbon footprint.
Fuji Xerox has committed to a net-zero carbon and zero-waste-to-landfill future. Its free MfE-accredited take-back recycling scheme ensures that over 99.5% of end of life Fuji Xerox machines and toner cartridges that are collected avoid landfill and are instead recycled.You can read about their sustainability performance and see photos of their trip in Fuji Xerox's upcoming GRI sustainability report that is set to be launched in November.