Low Carbon Freight Pathway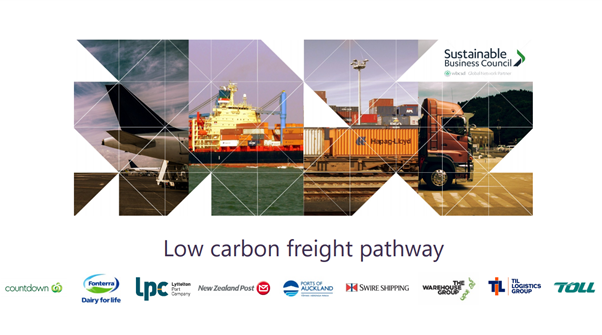 A report released today by the Sustainable Business Council's (SBC) Freight Group sets out an ambitious but achievable 30-year pathway to progressively decarbonise New Zealand's freight system.
The Low Carbon Freight Pathway report was launched at an event at Toll Tamaki, in South Auckland, attended by Transport Minister Hon Michael Wood and industry leaders from the transport, freight and business sectors. The Freight Group includes leaders from nine New Zealand companies committed to low carbon freight – Countdown, Fonterra, Lyttelton Port Company, New Zealand Post, Ports of Auckland, Swire Shipping, The Warehouse Group, TIL Logistics Group and Toll.
Host of the event and member of SBC's Freight Group, Executive General Manager Toll New Zealand, Jon Adams says the companies in the group are already advancing their own decarbonisation pathway and are committed to the country's zero carbon future by 2050.
"Every year we move around 280 million tonnes of freight across our transport system – through road, rail, coastal shipping, international shipping and air. That's around 56 tonnes of freight per person in New Zealand. On current projections our freight volumes will increase by 33 percent well before 2050. If we do nothing, emissions will grow by over 37 percent by 2050. We need to act now."
FAQs

What is the SBC?
Our purpose is to mobilise New Zealand's most ambitious businesses to build a thriving and sustainable future for all. We have 100 member organisations that account for around 28% of New Zealand's private sector GDP, with a collective turnover of $87 billion and employing around 160,000 New Zealanders.
Who is the SBC Freight Group?
Our Freight Group is made up of thought-leaders from across our member companies (Countdown, Fonterra, Lyttleton Port Company, New Zealand Post, Ports of Auckland, Swire Shipping, The Warehouse Group, TIL Logistics Group, Toll NZ).
Why is the Freight Group's perspective unique?
Our Freight Group includes cargo-owners and freight-movers, with experience in moving goods across the transport system, making use of all the modes.

Our work therefore takes a multi-modal view and understands that freight needs to be moved in a way that is: safe, cost effective, meets customer delivery expectations and has minimal environmental impacts.

Why was this report commissioned?
The Freight Group members are all looking at how they can decarbonise their businesses, but also realise that a whole-of-sector approach is needed if New Zealand is to reach its emissions target.

The Group began working together with the report authors to see how decarbonisation could be achieved.

What is the greatest obstacle to decarbonisation?
The report identifies the potential cost of the decarbonisation as the main barrier to be addressed. These higher costs will likely include much higher capital costs for vehicles, along with higher operational costs depending on the alternative green energy sources being used.
How can the cost of decarbonisation be managed?
The report identifies that a phased transitional programme, delivered over 30 years, will minimise decarbonisation costs. An important part of this programme is providing the sector with clear, predictable timelines for the transition, allowing them to make optimal choices about how they can invest in their businesses to decarbonise, while meeting their customer requirements and remaining competitive.
Why is a transition process necessary?
New Zealand's domestic freight system includes over 820,000 light and heavy vehicles, as well as rail locomotives, ships and planes along with the supporting infrastructure developed over decades. This equipment and infrastructure represent a considerable financial investment, with much of the value still to be realised over the next 20-25 years.

To change to low carbon modes of propulsion, this existing equipment will need to be progressively replaced once they have reached the end of their economic life, with the required supporting infrastructure (such as charging stations) developed in this time.

Can industry make this transition on its own?
Because the freight system is operated by thousands of private companies, working to meet the needs of their customers, the most effective transition programme will be one developed by and for industry. This will allow industry to make the most rational choices about the solutions that meet their freight and customer requirements.

Central and local government also have significant roles in influencing the operation of the freight system through their regulatory, planning and investment functions. For this reason, the programme will require government support and engagement as we navigate the pathway.

Is the transition programme finalised and fully costed?
Our report sets out broadly the most achievable and lowest cost process, using short, medium and long term solutions. It is not intended at this stage to be a fully costed and detailed programme.

We want to work with other companies and government to fully develop the programme, including testing and refining the options (including some not yet proven, so not included). We also believe that trials and lessons learnt from companies that are decarbonising, will better inform the sector.

This is why we have called this process a pathway – recognising that the journey is not fully mapped out, but we need to start taking our first steps so we can reach our destination in the time we have -before 2050.

Is the task of decarbonising too big a challenge for the freight sector?
Decarbonising our freight supply chains is a daunting challenge. However, we also recognise that the freight sector is known for its ability to respond to huge challenges and adapt to new, world-changing opportunities, such as the development of road transport following World War Two, containerisation, industry deregulation in the 1980s, the move to high productivity (HPMVs, including 50MAX) or recent responses to natural disasters and the COVID-19 pandemic. With a predictable and phased programme, we believe New Zealand's freight sector is up to the task.
Is it not best just to wait and see what technologies become feasible in the future?
To avoid the worst impacts of climate change, if increases in average global temperatures exceed 2 degrees Celsius, we must work to reduce our emissions now. New Zealand, along with most of the international community, is committed to fixed emissions budgets over the next 30 years.

Because our population and economy are growing, so too is our freight task. This growth is increasing emissions, meaning that if we do nothing our freight-related emissions will grow (not reduce) by 25% by 2050.

Our programme proposes, therefore, a range of low cost, low risk initiatives in the initial phase, to allow a reduction in emissions. At the same time, work can begin to identify the most viable alternatives for low emissions technology for businesses to invest in over the next 25-30 years.

Will moving freight to rail and coastal shipping be enough to lower our emissions?
Moving freight, where feasible, from road to rail and coastal shipping will provide some initial decarbonisation benefits, as those modes have a lower carbon footprint than road (when the task is economically contestable and practicable).

However, the large majority of New Zealand's freight task can only be moved by road. Therefore, our pathway has a range of short-term initiatives focused on the road transport sector, with biofuels becoming an important part of emissions off-setting in the medium-term. In the longer-term road transport will need to move to low carbon propulsion, which is likely to be battery electric for light trucks and hydrogen for heavy trucks.

Who will pay the additional costs of transition to low carbon?
The movement of freight is ultimately about providing for the delivery of all the goods we as New Zealanders buy and sell every day.

While companies that move freight will initially pay the cost of transition, these costs will be passed on to the businesses that own the freight and eventually passed on to consumers, who buy these goods. As such, the report sets out how these costs can best be minimised through an orderly transition.

As more businesses start the transition, so the overall cost will be reduced through achieving economies of scale. To achieve this sooner, we want to work with other businesses to encourage them to come onboard. We also want to work with government to see how costs can be further reduced, including removing some cost barriers to transition.