The SBC Annual Snapshot highlights SBC and member activity throughout 2022/23.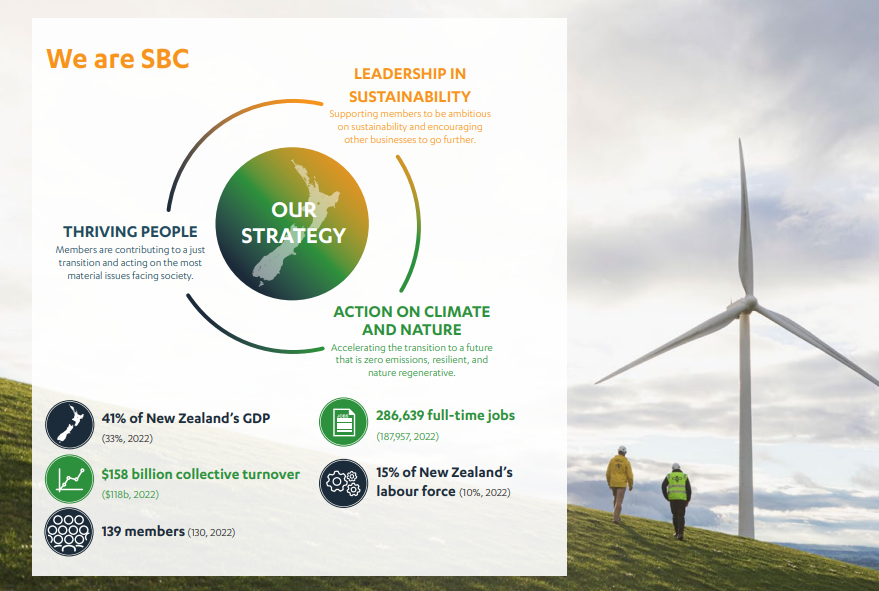 Message from Mike Burrell, Executive Director SBC and Gareth Marriott, Chair SBC Advisory Board
We are proud to be able to present to you this 2022-23 Snapshot Report.
The results reflect not only the ongoing deep commitment of our members to act on securing a sustainable future, but also the positive impact we continue to have by working collectively across the membership.
The partnerships, collaborations and connections showcased in this year's Snapshot illustrate how together we can shift the dial on securing a low emissions and climate-resilient future for New Zealand, where business, nature, and people, can thrive.
The official launch of AgriZeroNZ, a public private Joint Venture, grown from collaboration facilitated by SBC is a powerful example of just that. This kind of collective high impact is something we are seeking to replicate with the next phase of our work to decarbonise heavy freight, which kicked off this last year.
Focus on areas of high impact such as these will remain critical for us as we continue to bring to life our refreshed Strategy, which was also delivered in this past year, reflecting the rapidly change context and new opportunities in sustainability that have eventuated as a result.
In the build-up to a general election this refreshed focus has been particularly important. Alongside the Climate Leaders Coalition, our collective advocacy voice has continued to play a critical role in signalling what we need from an incoming government to ensure the certainty and confidence business needs to continue to invest in the transition opportunities before them. The delivery of our Pre-election Polities Priorities Paper sets out exactly what we need to see from whoever makes up the incoming Government.
In a post-COVID world, we have been delighted to once again be able to regularly bring our people together for events and engagements which showcase and amplify the sustainability leadership role our members continue to take. In partnership with the Climate Leaders Coalition and Environmental Defence Society we are proud to have delivered the largest Climate Change and Business Conference in the event's 14-year history, with the support and involvement of many of our members.
Across all this work we have maintained our sharp focus on people, launching the next phase of our approach to strengthening the S in ESG and beginning to explore what that means for the role SBC has to play.
We would like to thank our SBC Advisory Board for the impact they continue to have and the important guidance and leadership role they provide to the organisation.
We would also like to thank you all for your valued contributions and the significant role you have each played in bringing all this work to life.
You, our members, are the heart of SBC – and we should all be very proud of what we have achieved together in the last year.