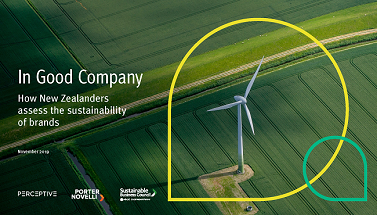 New Zealanders believe electricity retailers and supermarkets are doing the most to be more sustainable, however, they want brands in all industries to be more open and upfront about sustainability, and actively communicate it.
Download the report (PDF)
Foreword
Karen Silk, Sustainable Business Council Chair and Acting GM Experience Hub, Westpac New Zealand
New Zealand's business community is increasingly looking at how we can embed sustainability into its strategies, practices and communications, but most businesses are hesitant to talk about what they're doing. In Good Company tells us that New Zealanders really want to know more about what businesses are doing, and that there is a big opportunity for the business community to better show their leadership.
This research gives businesses new information on the different ways that sustainability factors into people's purchasing decisions, and gives us deep insight into what business sustainability leadership looks like to New Zealanders. And with more than four in five New Zealanders saying that everyone has a responsibility to do more around living sustainably, businesses can be confident that people will look for, and notice, their sustainability activity.
It doesn't have to be a one-size-fits-all approach, and this research provides pointers for some different industries on current consumer sentiment about that sector's sustainability activity, and where they can start to make some changes. It is heartening to see that the influences on New Zealanders' perception of brands are a mix of previous experiences with that brand, formal communications channels, packaging, and conversations with friends and family, among some other factors.
This should embolden the business community to keep looking at all the ways it can have transparent and meaningful connections with customers, and support their values around sustainability just like you'd like them to know about, understand, and support, your business's sustainability goals.
I encourage all businesses to talk with everyone at their workplace – from your brand and marketing team through to your CEO and Board – about the In Good Company results that show that New Zealanders are saying that business sustainability is important to them, and they want to know more about it.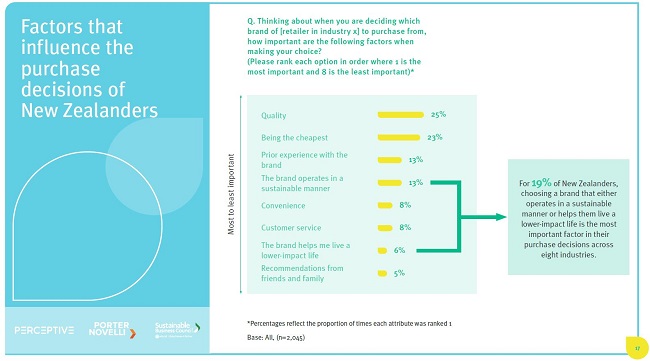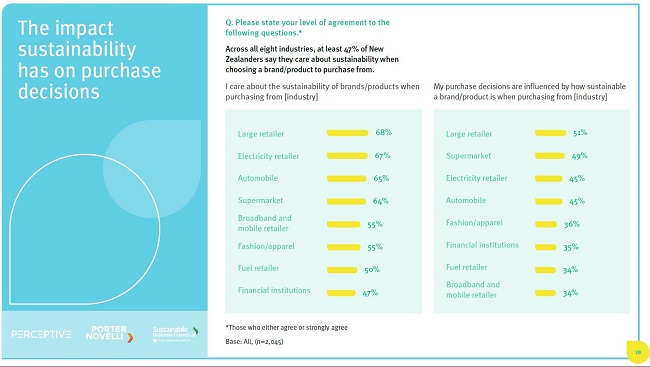 More information about SBC's Consumer Decision-Making programme