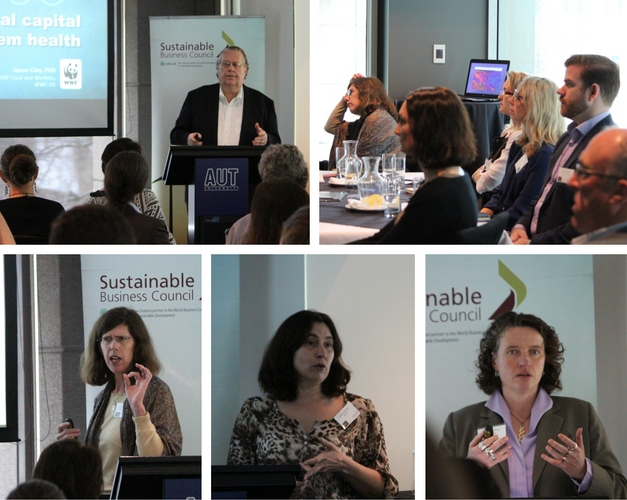 On 15
September 2016, the SBC convened an all-day workshop on the use of the recently
launched Natural Capital Protocol. The
workshop was attended by around 45 people representing 30 of SBC's membership.
This workshop's
opening
keynote from Dr Jason Clay focussed on the importance and
opportunities of a natural capital approach, the international
context, and the opportunities for NZ with our market economy dominated by
the export of agricultural goods in NZ. You can see Jason's longer video presentation here.
Mark Christensen, Project Lead for SBC's Ecosystem Health work programme, introduced the Natural Capital Protocol. The Protocol builds on and consolidates a number of existing tools and
frameworks for measuring and valuing impacts and dependencies on natural
capital and ecosystem services. It is a
standardised framework for business to identify, measure and value its direct
and indirect impacts and dependencies on natural capital and ecosystem services. The Protocol involves four stages with
a total of 9 'steps' and can be applied any scale of business and across a
range of business types. See Mark's presentation here.
The four stages are:
The Frame Stage which introduces key concepts and helps to explore the potential benefits to your business of conducting a natural capital assessment.
The Scope Stage which helps to identify what you need to consider, within an appropriate scope, to meet your defined objective.
The Measure and Value Stage which is the technical bulk of the Protocol, and helps you make the right decisions for your measurement and valuation.
The Apply Stage which looks at applying the results of your assessment into your decision making context.
Belinda van Eyndhoven (SBC) then put the Protocol into the national
context, outlining the drivers which are combining to make the Protocol
relevant to New Zealand business. They include the recent announcements to the reporting requirements of
the NZX, a drive by investors and financiers for greater understanding and transparency
and natural capital 'externalities', increasing interest from government to
become involved in regulations in this area, and increasing demand by consumers
for improved understanding of the environmental impacts of the goods and
services they consume. See Belinda's presentation here.
Suzie Greenhalgh (Landcare Research) led participants through an
exercise about framing and scoping a natural capital assessment. See Suzie's presentation here. Suzie drew on lessons learned from SBC members' use of the ecosystem services review tool.
Justine Bennett (AECOM) described the lessons learned from AECOM's use of
the natural capital approach with the ecosystem services review tool. See Justine's presentation here.
Katherine Short (Terra Moana) then discussed the work that Moana New Zealand is undertaking as a result of its use
of the NCP approach. Katherine summarised the range of methods available for
measuring and valuing (Stage 3) a business' impacts and dependencies, together
with risks and opportunities, on natural capital and ecosystem services. See Katherine's presentation here.
The workshop concluded with a practical exercise with participants developing a 'business case' for why taking a natural capital approach using the
Natural Capital Protocol might be applicable to their business.
SBC is continuing to work with member companies to pilot the use of the
Natural Capital Protocol. Our overall
objective is for businesses to be able
to value natural capital and ecosystem services so that they:
Are more resilient in terms of risks to their business
Are better able to take advantage of opportunities
Have improved performance
Have benefited from minimising adverse effects on the environment
Have improved competitive advantage.
By 2020 SBC is looking to have at least 40 member organisations involved in using the NCP and who are managing their business risk better as a
result of taking a structured NCP approach to ecosystem impacts and dependencies.