New insights into sustainability and consumer decision-making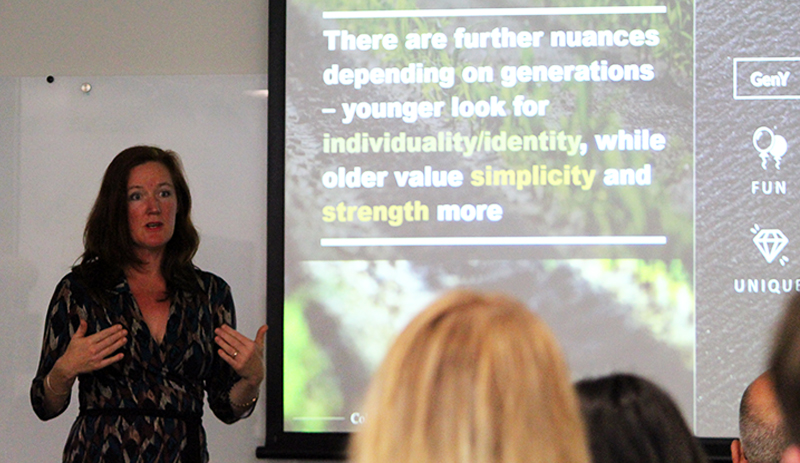 Jacqueline Farman, CEO of Colmar Brunton, presented its latest research into sustainability and consumer decision-making that forms the 2015 Better Futures Report. The breakfast presentation, hosted at Lion on 29 October, highlighted a number of takeaways for those impacted by consumer decision-making.
Generation Y are considered the most environmentally and socially concerned generation yet, and Millennials will comprise 75% of the workforce by 2025.
The top 5 concerns in NZ today are violence in society; increased cost of living; pollution of lakes and seas, affordable housing; and affordable healthcare. 75% want to work for responsible businesses, while there is a growing distrust in the safety of everyday products we buy. The purchase of organic or ethical products is now well entrenched in consumer behaviour, with this behaviour growing fastest among the younger generations.
Responsible purchasing is accelerating faster among late-moving services sectors and older generations. Sustainable purchasing will continue to increase especially among Gen Y. And younger generations continue to place greater value on sustainable choice.
Despite growing interest, business is struggling to communicate their sustainability values to consumers. Many consumers (71%) could not name any sustainable companies, but for those that could, Meridian and ecostore were the top names mentioned. Businesses could do a lot more to engage with their customers, and reward those who choose sustainable options.
Over time, we're seeing a significant shift back to brand engagement and purchasing via 'emotional choice'. Brands that intuitively represent characteristics of 'trustworthy, confident, friendly, creative, sustainable' have the greatest appeal to consumers today. In this information age of greater knowledge and social media businesses "cannot get away with anything" and with this there is an inherent increase in the level of anxiety among consumers about the products they purchase.
The most valuable and fastest growing brands in the world have a 'meaningful point of difference'. At its most basic, this means they're clear on how they make a positive difference in people's lives. And if you think less about 'sustainability' and more about 'purpose' – this is the secret to being sustainable. A powerful brand involves 'Defining the difference', 'Co-creating the difference' and 'Executing brilliantly'.
View the 2015 Better Futures Report here