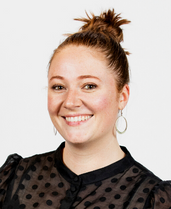 Nicole Schlichting, Senior Communications Advisor at SBC, participated in the 2023 Sustainability Leadership Programme (SLP) alongside more than 45 other leaders looking to push the sustainability agenda in their organisations. The course, run in partnership between SBC and Catapult, is designed to teach critical leadership skills through the lens of sustainability, offering participants hands-on experiences that build connection, skills and confidence.
Here are Nicole's top three takeaways from the programme.
Connection is everything
Being new to the sustainability sphere, one of the primary reasons I personally chose to do SLP was to build a network of other sustainability professionals facing similar challenges to my own so we could learn from and bounce ideas off each other – and I was definitely not disappointed!
One of the most valuable examples of this from the course was the wealth of insights I gained from my LeaderLab, which is the smaller group participants are assigned to for closer connection throughout the duration of the programme. I was placed with three other programme participants from very different industries, seniorities, backgrounds and experiences who then helped me dissect and diagnose the specific sustainability challenge I chose to work on during the course, in a way I might never have considered. Not only that, but I've now got three great mates (who I otherwise would probably not have met) I know I can lean on for sustainability challenges in the future, and vice versa.
Easily the best part of the programme for me was the in-person 2-day in Wellington, where participants got the chance to workshop their sustainability challenges with others, as well as do 'speed networking' and get to know one another. I met so many others facing similar challenges to my own, and I now feel like I have a community of other sustainability practitioners that I can work with and tap into moving forward.
Takeaway: The pool of sustainability professionals in Aotearoa New Zealand is still relatively small and it's easy to feel siloed. SLP highlighted how crucial it is we collaborate and support one another (regardless of business competition) towards what is ultimately our common goal of securing a sustainable future for Aotearoa New Zealand. He waka eke noa!
Start with bite sized chunks
Climate change, systemic inequality, biodiversity loss – I know I'm not alone in feeling incredibly intimidated by these challenges, particularly given their complexity and immensity. During SLP, we were taught a number of different systems mapping tactics we can use, firstly to keep our climate anxiety at bay and focus on what we can control, and secondly to break our own sustainability challenges down into bite sized chunks to make them more digestible.
One of these tactics is the process of 'getting on the balcony' and looking wholistically at a problem before trying to tackle it. From there, you'll be able to better understand the scope of the challenge, the stakeholders involved, the nature of the challenge and its root causes before coming up with a plan of attack.
Takeaway: Sustainability challenges need to be tackled one step at a time! The leadership and resilience tools I gained from SLP have been hugely valuable in helping me be able to diagnose complex sustainability challenges and determine how best to start chipping away at them.
It's up to us…but it's not all on our shoulders
This course was a timely reminder that our role as sustainability professionals is to bring our energy, optimism and ambition to the many sustainability challenges facing society – because if we aren't energetic, optimistic and ambitious, how can we expect non-sustainability professionals to be?
However, that is not to say the weight of the climate, inequality and biodiversity crises should sit solely on our shoulders. Sustainability is increasingly a shared challenge that boards, executives and employees alike need to take responsibility for and integrate into their day jobs, so it's our role to figure out what our 'purpose' in this industry is, and then use our leadership skills and levers to influence others within our organisations and beyond, thereby creating much bigger impact than we'd have individually.
Takeaway: More than anything, we are the mobilisers! I feel much clearer now about my purpose and my role in the sustainability sphere than I did before participating in SLP. The different tools and formulas for helping us really get to the core of our individual 'leadership backbones' have been really useful in keeping me grounded and focused on the areas that matter to me and in which I know I can make a difference.
Learn more about the Sustainability Leadership Programme here.
---

---