The art of adaptive leadership – a Future Leaders Programme update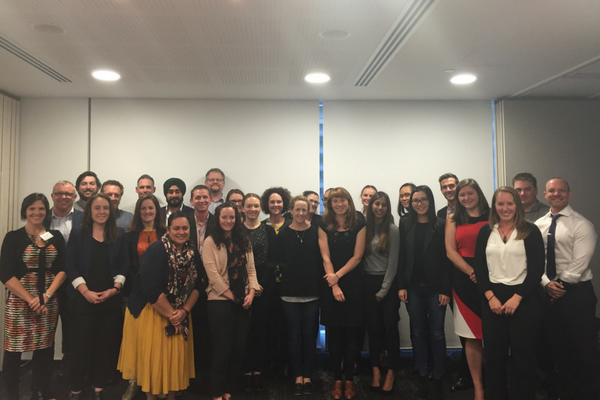 Session two of the Future Leaders Programme kicks off tomorrow – and Catapult and the Sustainable Business Council are excited. 26 people from 24 member companies will be back together, taking part in an intensive two-day workshop. Their focus is on the art and practice of adaptive leadership and leading effective positive change.
The Future Leaders' Programme (FLP) is SBC's flagship professional development initiative. It centres on business leadership and sustainability. The aim of the programme is to equip our future leaders with the tools and insights they need – to be strong leaders advocating for sustainable practices and outcomes.
This year we are focusing on the UN Sustainable Development Goals (SDGs). They provide an opportunity for businesses to align their activities and initiatives with global sustainability priorities.
The group has chosen five (of 17) Global Goals to focus on. They are:
#7 Affordable and clean energy
#9 Industry, innovation and infrastructure
#11 Sustainable cities and communities
#12 Responsible consumption and production
#13 Climate Action
Over the last seven weeks participants have started researching and developingproposals for New Zealand businesses to make tangible actions that support each SDG. Participants will present their recommendations in September.
The proposals will help inform SBC's new work programmes. In the past, FLP recommendations have helped shaped SBC work in its Social Impact,Consumer-decision making and Ecosystem Health programmes.
A key feature of FLP is the participation of senior New Zealand business executives, who inspireour Future Leaders by sharing their insights and experiences of leadership in sustainability. This year we are thrilled to have Mike Bennetts (CEO, Z Energy), Kate Beddoe (Chief Risk Officer, Vector) and Mark Young (General Manager, Finance &Corporate Resources, Toyota) join us.
Members of the Future Leaders Alumni are also going to hold a networking evening, to introduce this years' participants to its growing fellowship. The Alumni will all provide an update on its progress and achievements including its Youth CSR project which was started in 2015.
Stay tuned, as I look forward to sharing with you some of the key reflections, learnings and insights from the workshops next week.
Robert Perry, Sustainable Leadership Manager
Contact: Rob Perry, Sustainable Leadership Manager
Phone: +64274559104
Email: