Weaving the realisation of potential together
What do brainwriting, springboard stories and leader labs have in common? More than you would think, as our participants in the 2018 Sustainability Leadership programme found out.
Mā te whititahi, ka whakatutuki ai ngā pūmanawa ā tāngata – Weaving the realisation of potential together
What do brainwriting, springboard stories and leader labs have in common? More than you would think, as our participants in the 2018 Sustainability Leadership programme found out.
SBC's Sustainability Leadership programme, delivered by Catapult, wrapped up for 2018 in Auckland last week, with a session on what you need to do to develop organisational culture to support sustainability.
Over the last six months our 30 'transformers' from retail to media, finance to agriculture, and global corporations to NFPs, including the SBC team themselves, have applied new skills, ideas and ways of thinking to live projects and sustainability challenges in their organisations and wider value chains.
Looking back on the programme, I wanted to share my reflections as well as two practical tools that could help you lead transformative change in 2019.
Being truly sustainable in business requires fundamental changes to the way we think about business, and to the whole system we operate in. Bringing about systems change takes particular leadership skills, in five key areas: Systemic diagnosis, leadership and learning, innovation for impact, strategy design, and collaboration and engagement.
The leadership course has focused on these five core capabilities. We know that systemic change cannot be achieved alone, but on the other hand, we see all the time the challenges involved in effective collaborations. So next April SBC is looking to host networking events on leading effective collaborations, in Wellington and Auckland.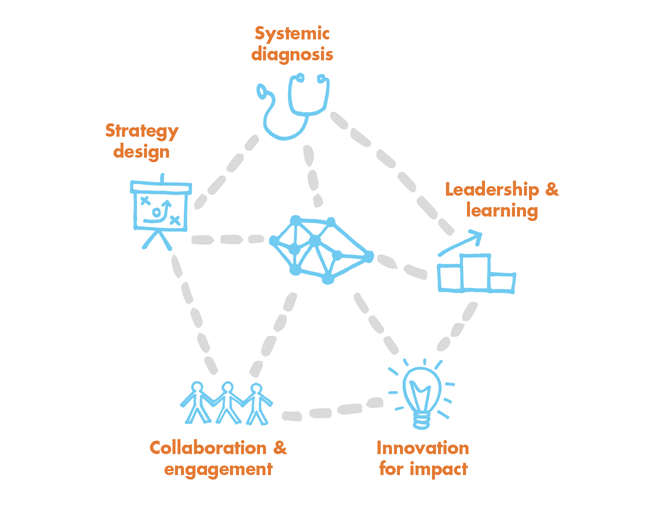 Source: Forum For The Future
Not going it alone
The value of the programme has also been in the networks and fellowship that has formed across the 30 senior business leaders over the last six months. Each participant took part in a 'leader lab' group which met informally to apply learnings and exchange ideas to make progress on sustainability challenges in their organisations. In the new year we will be sharing their leadership stories with you.
I want to share two of the leadership tools from the course, which you might like to try out in 2019.
Brainwriting is similar to brainstorming – but better. Brainwriting enables rapid idea generation to solve problems, and to design prototypes and experiments.
Rather than participants calling out ideas, they write down ideas about a particular question or problem on a sheet of paper for a few minutes; then pass their ideas on to the next person, who reads the ideas, and modifies, combines, or adds new ideas. After 10 to 15 minutes, you collect the sheets and post them for immediate discussion.
Brainwriting can often generate many more ideas than brainstorming and reduces the amount of discussion that happens during brainstorming, which can take time away from thinking up the ideas.
Sparking change through storytelling
During the final workshop the group explored how you develop a culture of sustainability. Building a culture depends on the quality of relationships, which itself depends on the quality of our conversations. So leadership can be seen as a relationship that happens through conversations. Our second leadership tool for 2019 is the 'springboard story'.
An important part of any leader's role is preparing others for what lies ahead. To do that, you need to communicate the sometimes complex nature of change and inspire your colleagues to take action. The challenge lies in crafting a credible narrative about the future when the future is unknowable.
The impact of a springboard story is less through transferring large amounts of information, but rather catalysing understanding. It enables listeners to imagine what is involved in a large-scale transformation in a comparable context and then to act on that realisation.
A good springboard story is based on an actual event, recent enough to seem relevant. It has a single protagonist with whom members of the target audience can identify. Done well, the springboard story helps your audience to grasp how an organisation or system may change. It could be sharing a real-life example of when a manager or staff member saw the benefit of a sustainability initiative through increased customer satisfaction, improving stakeholder relationships, or in the bottom line of your business.
Story-telling is an important part of sustainability overall and we look forward to helping our members build their storytelling capability in 2019.
From all of us here at SBC, Meri Kirihimete and best wishes for a sustainable new year.
Robert Perry, Sustainable Leadership Manager
Contact: Robert Perry, Sustainable Leadership Manager
Phone:
Email: