Our atmosphere and climate 2017 report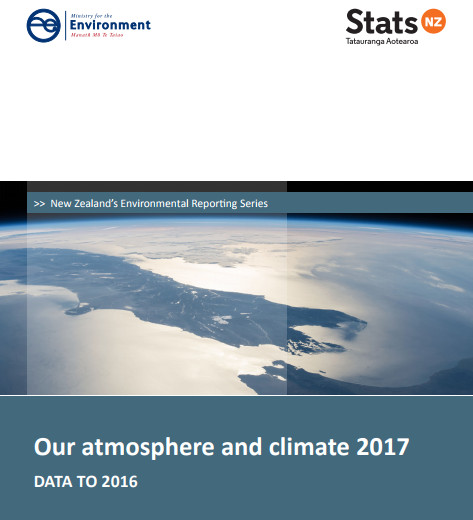 Highlights
*New Zealand has experienced a 1°C temperature increase since 1909
*Sea levels have risen 14–22cm at four main New Zealand ports since 1916
*Our greenhouse gas emissions rose 24% from 1990 to 2015
*Road transport emissions have risen by 78% since 1990
*Acidity in sub-antarctic ocean off Otago has increased by 0.03 units
Read the full report here, and Kate Alcock, our Climate & Resources Managers' analysis of it here.
Insights
The 'New Zealand's Environmental Reporting Series: Our atmosphere and climate 2017' report from the Ministry for the Environment and Statistics New Zealand was released today.
There's a good short summary at the front of the report that lays out the key stats. Much of it is sobering. NZ has the fifth highest emissions per person in the OECD; our net emissions rose by 64%; carbon dioxide concentrations at Baring Head near Wellington increased 23% from 1972 to 2016; from 1977 to 2016, our glaciers lost an estimated 25 percent of their volume; climate change is already potentially irreversibly affecting New Zealand's natural systems.
What is missing is any data about how we're tracking against our Paris Agreement commitment.
It's important for us to focus on a few very important things in the face of such grim reading. This data doesn't tell the story of the effort, investment, time and energy that many people and businesses are putting into addressing climate change. I've been working with SBC members on climate change three years now. What I've seen over that time is their growing urgency of action, and a growing number setting targets that align with keeping warming within 2 degrees. Many SBC members are working with EECA on energy efficiency, or buying electric vehicles, or committing to CarboNZero CertTM and CEMARS® certification. The effort has multiplied, and I'm so hopeful that we will see it translated into more positive data the next time MfE & Stats do this report.
These reports are important for those of us who work in Sustainability because it provides us with reliable, good quality data and information. We all know how important it is to have good data – it can paint a picture about change over time, or point us to priority areas, or tell us whether we are having the impact we want.
This is something we need more of. I've been working with members on initiatives to improve freight efficiency for three years now. And given that road transport has had one of the largest increases in emissions, with a 78% increase since 1990, that's a good place for us to focus.
Our Freight Efficiency Group's projects included, utilising the rail network more and working with freight operators to implement changes to their routes that reduce emissions. They have agreed on shared procurement guidelines to make it easy for freight operators to understand what they are looking for.
But we need more data and information. Our group had to do its own analysis to understand the emissions profile of domestic freight (domestic freight activity resulted in 2.9 Mt Co2-eq to New Zealand's emissions profile in 2014). We need more of the data that helps us make good decisions.
And finally, it's how we respond that is the important part. Today's report shows us the scale of the challenge. But with every challenge comes opportunity. If we act now on climate change, we could forge a pathway that results in improved outcomes for New Zealand. That framing is going to be really important if we want people to engage in positive, creative and innovative ways.
And that will require us working together in new ways. Business can't make the transition alone, nor can government. We need to work across all sectors if we're going to respond well. And we will need good data to inform that.
Kate Alcock, Climate and Resources Manager
Contact: Kate Alcock, Climate and Resources Manager
Phone: +64274559104
Email: