The SBC Annual Snapshot (PDF, 1.2MB) highlights SBC and member activity throughout 2020/21.
Our Members at a glance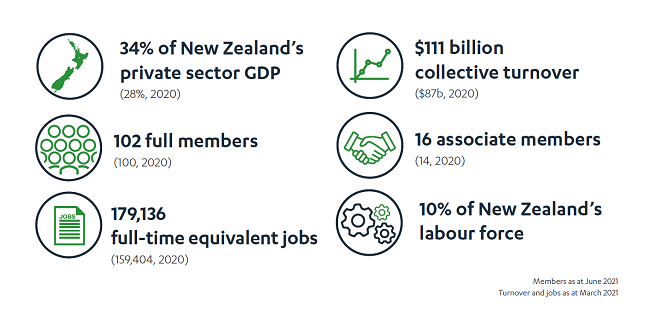 We are SBC
Message from Karen Silk, Chair SBC Advisory Board
It's been another challenging year of uncertainty and change as Covid-19 remains a continuing presence in our lives. And it will be for some time to come. For SBC, sustainability is at the core of everything we do. This enables us to tackle these challenges and make the most of the opportunities they bring and this year we have done just that. In September we launched our five-year strategy. With people and wellbeing at its heart, this is the blueprint of where we will prioritise our efforts and actions over the next five years.
These Snapshot results reflect the ambition and action of what we said we would deliver in our strategy. This has been made possible through your exceptional leadership, efforts and collaboration with other SBC members. On behalf of the Advisory Board, I want to thank each and every one of you for bringing our new strategy to life. I also want to thank our Advisory Board for the sustainability leadership and drive they bring to our SBC table.
Message from Mike Burrell, Executive Director, SBC
Without doubt, it has been a rollercoaster year. But it has also been a year of collaboration, momentum, and action, beginning with the development of our five-year strategy. Since then, we teamed up on leadership through partnering with our Climate Leaders Coalition colleagues enabling 150 of New Zealand's leading businesses to speak with one voice on the Climate Change Commission's consultation. We partnered with EDS to take this year's Climate Change and Business Conference to the next level. Our Freight Group launched the Low Carbon Freight Pathway, a collaborative initiative for the sector. We introduced our Thriving People programme, expanding on our Future of Work programme. Leveraging our collective leadership and influence, we engaged extensively with Government and political parties.
It's been a pleasure representing you this year and I've been inspired by the leadership you've shown during these challenging times.